​About the Horizon Wellness Center at Bedford
The Wellness Center at Bedford provides a variety of clinical services for residents of the Town of Bedford, Bedford County, and the surrounding area. Individuals can receive the following services from this location: adult and child medication management, nursing assessments, outpatient therapy, case management, financial interviews, and group sessions.
Specialized group sessions are available for adults who have experienced trauma, adults with substance use disorders, and individuals in substance use recovery. These specialized groups include the Intensive Outpatient Group, Continuing Care Group, and Trauma Coping Skills Group.
Walk-ins or Same Day Access are also welcome at this location Monday through Friday 8:30am - 3:00pm. An evidence-based assessment will be provided via telehealth. When you are ready to begin services, please bring a picture ID, social security card, insurance card (we accept all insurances) and proof of income (pay check stub, W-2, SSI, unemployment, etc.). Please also bring any guardianship documentation if that applies.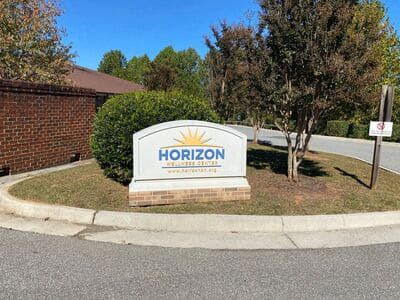 On-site Pharmacy
Making a separate stop to pick up medications can be a hassle. To make things easier for you, there's a pharmacy right here at the Horizon Wellness Center at Bedford.
Genoa Healthcare is our on-site pharmacy provider. Although patients may use any pharmacy provider they wish to fill their prescriptions, we recommend the on-site pharmacy as a convenient and effective service! Our Genoa partners can offer services to Horizon clients as well as your family for all health needs, behavioral health related or otherwise.
How Genoa Healthcare can help:
Full-service pharmacy that can fill all of your medications, even those from your primary care physician
Seasonal flu shots and a broad range of immunizations
Pre-filled pill organizers to help you take the right dose at the right time
Dependable delivery and mail services at no cost to you or you can pick them up curbside
A trusting and caring staff to help you with anything that comes up, including medication and insurance questions
Available to answer questions during business hours or through our 24-hour customer service line. To reach a Pharmacist after hours, please call (504)707-0364.
You have Horizon on your side, and Genoa Healthcare is part of our team. When you understand more about your medications, you feel better. And that's why we're here.
Learn more about Genoa Healthcare at www.genoahealthcare.com.
The pharmacy is open from 8:30am to 5:00pm Monday through Friday and the staff is ready to answer your questions – even if you're meeting with your doctor by phone or video!
Services Available At This Location
New clients looking to begin services at our Bedford Wellness Center can call the Horizon Admissions Department at (434)-477-5000 to schedule a first-time appointment. To learn more about specific services provided at this location, please click the link below.
Horizon Wellness Center at Landover
2235 Landover Place
Lynchburg, Virginia 24501
Phone: (434) 847-8000
Fax: (434) 847-6094
Phone (Child Services): (434) 455-3500
Fax (Child Services): (434) 455-3516
Horizon Wellness Center at Langhorne
2215 Langhorne Rd.
Lynchburg, Virginia 24501
Phone: (434) 948-4831
Fax: (434) 845-5805